November 18, 2020. Following the hints that Baker offers in the 1st edition of Photographic Emulsion Technique, I increased the amount of citric acid from 2 g to 2.5 g. Supposedly, this increases contrast. If so, I was too conservative. I don't think I see an increase, but P.O.P. exposure is so finicky, I'm not swearing to that. Nevertheless, it's a pretty batch of emulsion.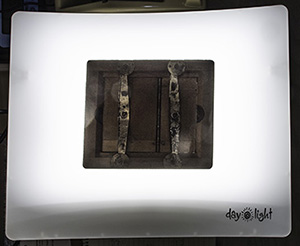 My new, larger light panel arrived in time for this batch — a Carex Day-light Classic Plus light therapy lamp. It's big enough for up to an 8 ½ x 11 inch print. (Shown is a 4x5 printing frame.) It's not LED, but Carex claims it blocks 99.3% of UV light and rates it at 10,000 LUX.
From just one day's experience, it seems to be an excellent printing light. It's almost as fast as my UV box, without the worries about UV light and eye health.