Errata: The Handmade Silver Gelatin Emulsion Print
Updated: February 20, 2019

I suppose it was too much to hope that there would be no mistakes in my book. I certainly tried to avoid them. Alas, mea culpa and apologies.
I'm starting an errata list here. Please let me know if you find even the smallest mistake. I will give a $25 gift certificate for the Photographers' Formulary for each one found. Contact me at editor@thelightfarm.com.
My deepest gratitude to Alexander Elkholy, Ian Andvaag, Bernd Dimpfl, and Scott Hellenbach for finding the mistakes.
p 150: "Figure 15.17 is a short stack…" should read "Figure 13.17…"
p 186: For the salted gelatin, use 2.5 g photographic gelatin (NOT 50 g)
p 255 and 256: The titles for Figure 19.1 and 19.7 are swapped. Also, Figure 19.3 should not include the word "Caption."
p 295: The recipe has omitted the amount of silver nitrate. It is 5.1 g in 10 ml water, heated to 60C.
p 20: Second column, third paragraph: the reference to Figure 3.6 should be to Figure 3.7.
p 200: Before adding the silver nitrate solution to the salted gelatin, stir 2 ml (40 drops) 10% solution potassium iodide into the salted gelatin. (See p 120-121 of The Light Farm book in the Blurb preview.)



The book is out!


December 10, 2018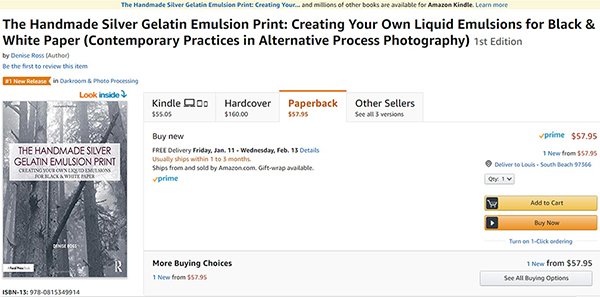 YAY! The book is out! Unfortunately, it looks like it won't ship until after Christmas, but I did have to grab a quick screen shot of the page while it said "#1 New Release." Even if that's an Amazon promotional thing, it still feels good!
My best to everyone and wishes for a safe, peaceful, and joyful Solstice and all the other holidays we celebrate at this time of year.
More



Home again, home again, hippity-hop!


October 29, 2018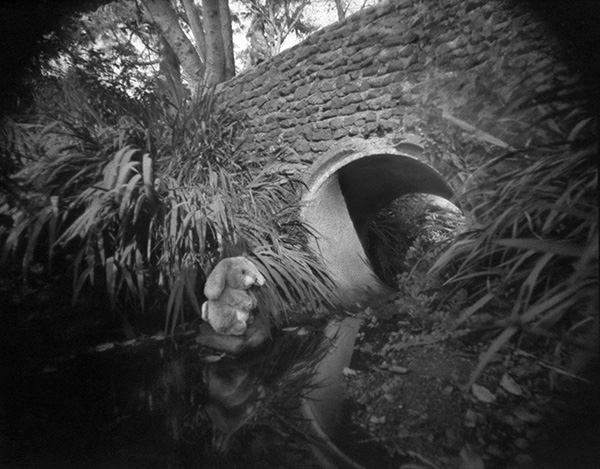 Hi Everyone!
I've finally had time to remodel The Light Farm. Anyone familiar with this site knows that it's been pretty quiet for the last several months. I've been deep into writing a book and (never a multi-tasker, I) the website paid the price. But, the book is done and heading to the printer. It's available now to preorder. It will start shipping toward the end of December. The links to Amazon and Routledge are on the home page.
More