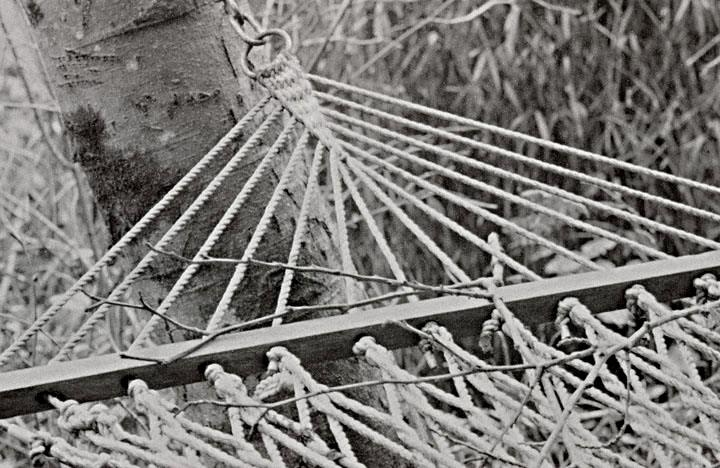 Using Photographers' Formulary BW-65 Liquid Paper Developer for Paper and Film
I had intended to test the second half of my latest batch of emulsion with a number of different developers to see if I could get the contrast up for enlarging. I started with BW-65, a developer I've never used before, and then stayed with it for the whole batch. I'm very excited about its qualities.
More about paper development below, but first, a little about BW-65 as an artisan film developer. The first print here is a 1.25 x 0.8 inch crop from a 3-1/4 x 2-1/4 inch negative ('TLF #1' on Melenex ). I scanned the negative in a film scanner and cropped and enlarged in Photoshop. The only tools used were an unsharp mask and a shallow curve.
Below is the negative and the uncropped print. It was a very dark day and the hammock was tied under a tall, dense Western Red Cedar tree. Still, the exposure was only 5 sec at f/11. Even better, the development in BW-65 (1:1:1) was only 5 minutes. The resulting negative has great contrast. I'm particularly pleased with the outcome because this piece of film was made last July. I set aside six loaded Baby Graphic holders to pull out periodically to test for age-related fog. The film is as clear as when it was fresh, and maybe a tiny bit faster.
BW-65 is very easy to use and if it is suitable for both film and paper, it will probably become my primary developer, for a while at least. With my next batch of paper, I'll see how this negative enlarges. It is considerably denser and higher contrast than the negative I used for my first enlarger experiment.