Stereo Cameras — Holga and Sputnik
April 17, 2011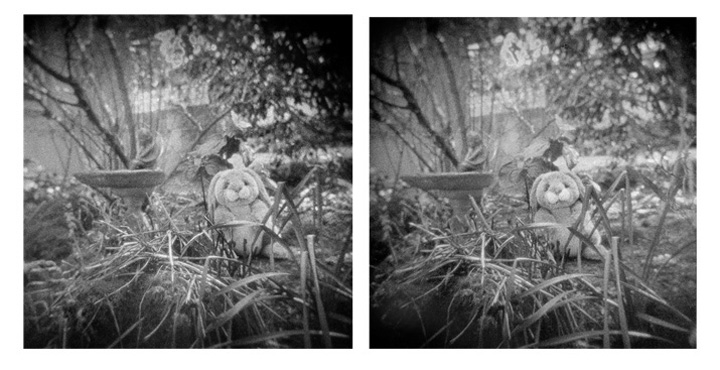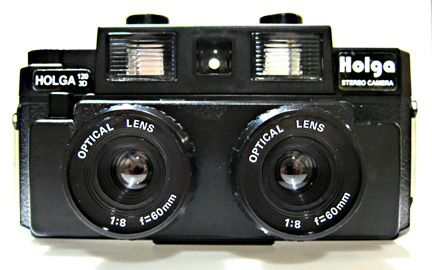 I've always loved stereo photographs. Countless childhood hours spent going through the box of antique stereocards with an old Holmes viewer at my grandparents' house may be what started me down the road to an obsession that's coming up on half a century (write that without a surreal feeling!) For many years it seemed like I was the only one still interested in stereography. I photographed with 120 TRI-X film in two cameras mounted side-by-side, or a single camera on a sliding bar, and then hand colored the b&w prints.
It goes without saying, of course, that 3D photography is back in fashion. There are more fantastic camera options than I could have dreamed up even ten years ago. I'm particularly taken with the intersection of the Lomography movement with stereo. I'm downright excited by the addition of handmade emulsions. I think 'TLF#2' will be in my Sputnik and with me everywhere I go for the foreseeable future.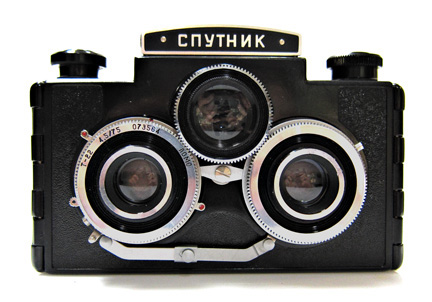 The Holga is fun, new and readily available — no relying on the used camera market, but the Sputnik seems to have been waiting for colorblind film. Its infamous 'problem' with internal flare, to my eye, plays with halation beautifully.
The internet is chock-full of information on cameras, but these are a few specifics of the 'new model' Sputnik — a 'Lomo' camera:
Leningradskoje Optiko-Mechanitschskoje Objedinjenije (LOMO), USSR
Focusing: manual, 1.3 m—infinity
Shutter speed: 1/125, 1/60, 1/30, 1/15 sec. and "B"
Aperture: continuously adjustable f/4.5 to f/22
Lens: 1:4.5/75 mm
Six 6x6 cm pairs (120 film) — be sure to advance two frames at a time.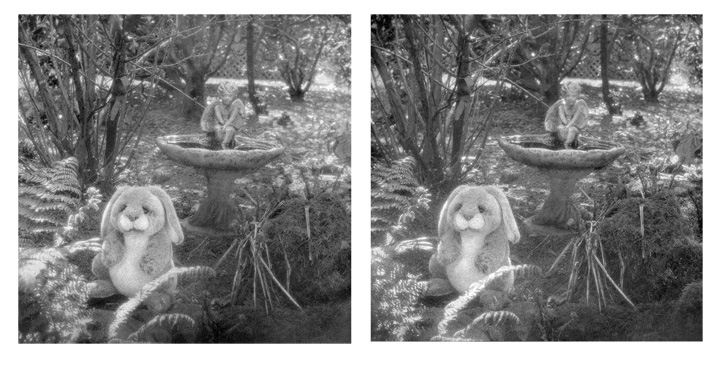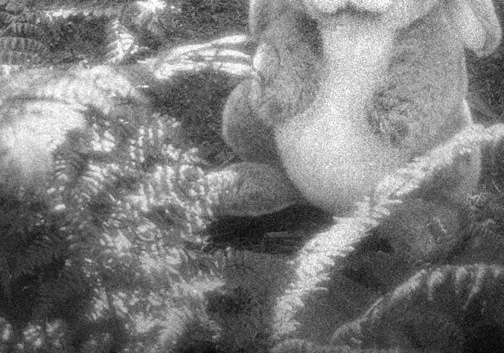 Holga and Sputnik definitely have their own characterstics / 'personalities'. The Holga's images (the stereo set at the top of the page) are very soft and vignetted. The lenses are wider angle than the Sputnik's — with the pluses and minuses that go along with that. The camera couldn't be easier to work with and being new and readily available is an indisputable advantage.
But I think my heart belongs to the Sputnik. It has the loveliest dreamy quality, without the plastic lens Krappy Kamera effect of the Holga. The lens quality is excellent and the bokeh of both the small highlights and around the halation seems perfect to me (subjective, to be sure.) The enlarged crop is from the left frame of the Sputnik stereo. Both stereo sets were made with 'TLF#2 — 2.2'.
Copyright © The Light Farm