Baby Graphic
November 9, 2011
Compared to her big siblings, the 4"x 5" and Quarter-Plate press cameras, the miniature Graphic/Graflex (a.k.a. Baby) is a mere handful of camera — hardly as heavy as a DSLR.
There are a lot of reasons for artisan photographers to use a Baby. They are still readily available as good, used cameras at fair prices. Not too long ago, there were a lot of these cameras in use. They were very well made and most are still in really nice condition. In addition, many of them come with excellent lenses that make negatives that seem made for high resolution scanning.
Of course, as with most film cameras today, the conundrum is knowing what to do with beautiful, yet becoming-obsolete tools. The film (2¼"x 3¼") is hard to come by. One source I know is Ilford (Long May They Reign!) through their annual special order. Another source is d.i.y.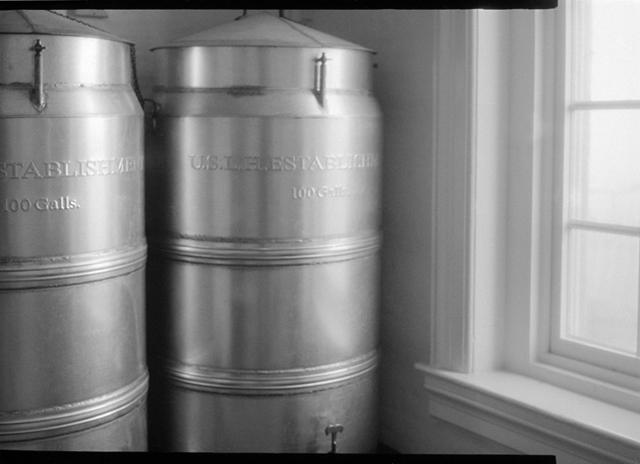 Oil Barrel Room, Yaquina Lighthouse, Newport, Oregon; exposed with only the natural light of a bright, foggy morning through a north window.
Colorblind, ammoniacal KBr(I) emulsion, coated on 3M subbed polyester film. Carl Zeiss Tessar 100mm lens.
Scanned at 4000 ppi with Nikon ED9000; absolutely minimal post-processing.
Having a collection of film holders, perhaps loaded with different films, gives the artisan photographer the same benefits that film photographers of past generations used to great advantage. Artisan emulsions are old emulsions — they can be pushed and pulled to shape their characteristic curves. This is the "expose for the shadows, develop for the highlights" Zone System techniques of N(ormal), N-minus, and N-plus. Modern emulsions to a large extent have been 'improved' beyond that capability. Old emulsions are anything but foolproof, but the silver lining is creative control.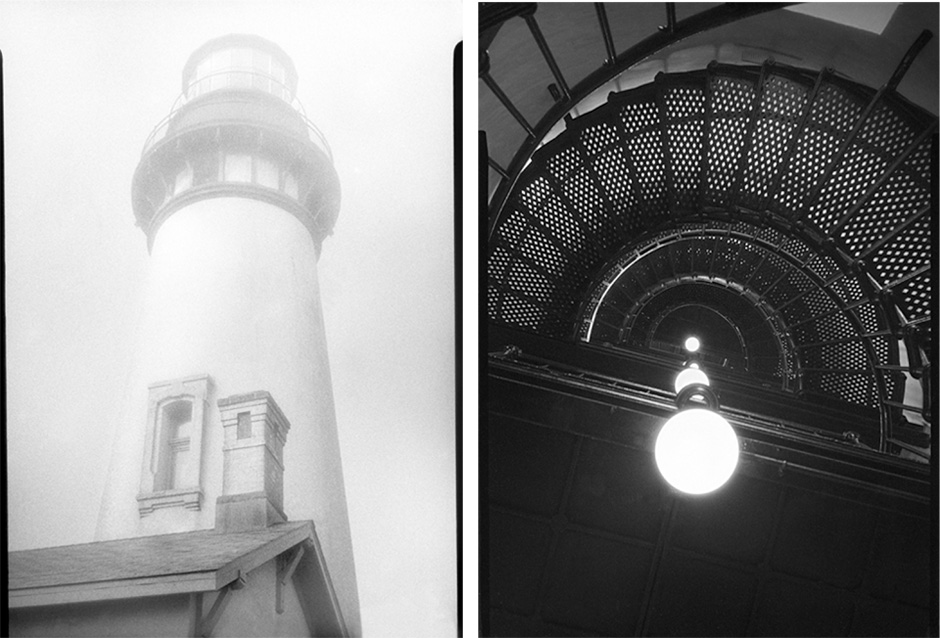 Copyright © The Light Farm